Epoxy flooring is a unique type of floor material that comprises multiple layers of epoxy and is applied to the floor with a depth of at least two millimetres. Epoxy includes several layers of thermosetting resin that are coated, poured and applied onto a concrete substance. Resin is basically composed of short-chain polymers.
When the resin layers are completely cured, the epoxy resin and hardener react to one other, resulting in a stronger chemical bond with each other and the floor too. The epoxy flooring is a very hard and safe coating for the concrete floors. They are mostly famous for a high level of quality strength they offer in the industry.
Various Types of Epoxy Flooring
There are numerous types of epoxy flooring available in the market. The first one is self-levelling epoxy floors used to apply on old, new or cracked concrete floors. They are available in various different colours, making them appealing to commercial and industrial spaces.
The second category includes quartx filled epoxy floors, which combine high-performance epoxy polymer and stained quartz grains. They are best utilized for spaces requiring sanitary and slip-resistant properties. The epoxy mortar floors are made from hundred percent solid exposies and graded sand, making them ideal for areas requiring a highly chemical resistant floor.
Another category is the epoxy flake floor containing coloured flake material inserted in the epoxy for creating a vibrant and attractive look. These flooring items are available in infinite variety of sizes, colours and styles. The anti-static epoxy floors also known as electrostatic charge resistant floors, are also available in the market. These epoxy floors hold a compound that accumulates static electricity, which dissipates and potential discharge.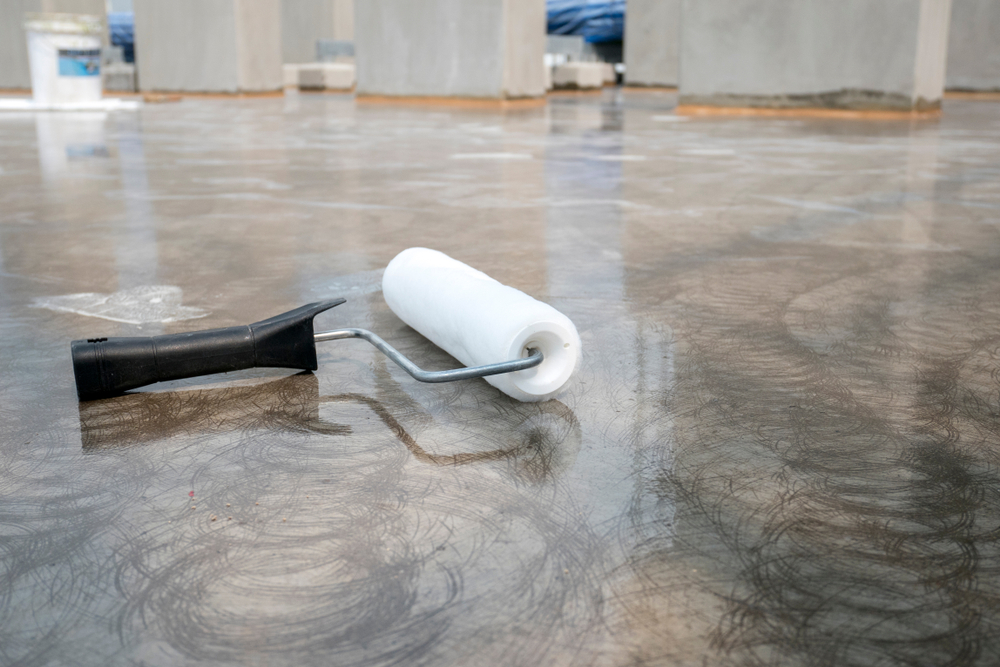 The Epoxy Flooring Have Different Uses And Applications All Over The World.
Uses and Applications of Epoxy Floors
The epoxy flooring fits best for manufacturing buildings, warehouses, kitchens and restaurants. The anti static epoxy floor suits the electronic, chemical, and flammable facilities that use flammable gases or liquids. These products create a flooring that is thicker, more straighter and more durable than simple flooring. They are also valuable for giving a professional look to any area as they are available in different colours and designs. Nowadays the epoxy flooring is also becoming popular in homes and lobbies.
Pros and Cons of Epoxy Flooring 
Epoxy flooring provide a shiny finish which makes these floors very attractive and appealing in appearance. The fine polished texture of the floors makes these floors easier to clean and letting the sheen last for many years. As these floorings have a strong chemical bond with the floor, therefore these are more durable in nature and facilitate heavy lifting or potentially intensive processes. They are also more affordable than the other flooring options. Their long durability makes them the first priority. These flooring products are resistant to large number of harmful chemicals such as acids and solvents. As the epoxy floors are available in different colours and designs, it is possible to create a decorative look with the flakes.
The main benefit of using the epoxy floor is the level of safety they provide. They are shock-resistant, slip-resistant, less abrasive and also withstand the heat of around 200 degrees. Therefore making them a beeter choice than the other types of flooring.
Final Words
The overall installation process of epoxy flooring can be a time-consuming process and require some necessary preparations at first. The epoxy floors are also sensitive in nature, and also the floor feels somewhat cold.However, the benefits of the epoxy floors far outweigh the challenges to be faced during installation.  So, after keeping in mind the factors mentioned above, you will have to take time and choose a wise decission to do.